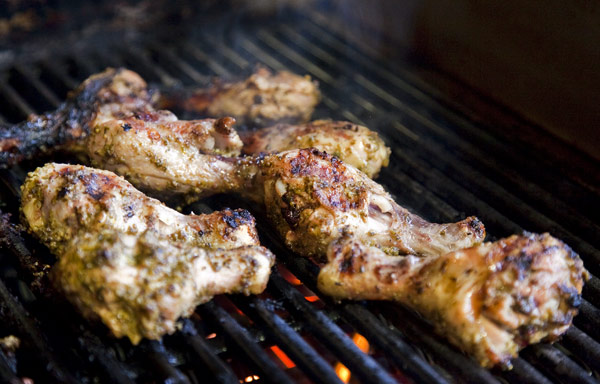 Chicken on an open flame is just so yummy especially when the bits of marinade become slightly char-grilled and end up having a bit of a crunch and 'pop' as you bit into them! We use drumsticks for this super easy dish as they mostly don't take as long to cook as the rest of the chicken pieces as it's important to do this from raw rather than par-cooked chicken pieces.
Ingredients

6-8 chicken drumsticks
2 tsp chopped garlic
2/3 tsp fresh thyme
1 tsp dried sage (optional)
1 tsp cumin
2 tsp mustard seeds or wholegrain mustard
1 tbsp coarse salt
juice of 2 medium lemons
3 tbsp basil pesto
Give it a whirl!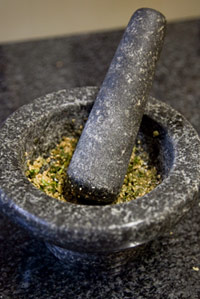 Start by getting the fire going if you're going to be using a coal fire as you'll need good red hot coals for these. If you're cooking on gas then relax as it'll only take a moment for those burners to warm!
Take all the herbs, spices and garlic and throw them in a large pestle and mortar – that's the thyme, sage, cumin, mustard seeds, coarse salt mixed with the garlic. Work this in the pestle and mortar until you get a consistent paste.
Then add the lemon juice and pesto giving it a thorough mix. Set aside.
Take you chicken drumsticks and score (cutting slits) them with a sharp knife in the fleshy part of the chicken leg. This enables the pesto to coat far more of the meaty area of the drumsticks. Grab that pesto and completely coat your drumsticks with the mixture and then lay on an oven tray ready for that braai.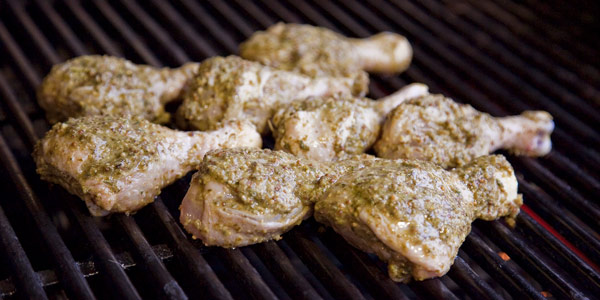 Cook your chicken on the grid of your braai with the bone side down initially (there's always an area of the drumstick that seems to have less meat, use this to start with). Once they start to really get char-grilled on the underside. Turn and repeat all round to have an even grilled effect. Your ready to serve with hot potato chips and Asian green beans.