My parents and sister were staying with us for the Christmas (they live on Vancouver Island in Canada) and shortly after their arrival I offered to cook dinner and said I'd do chicken stuff potatoes. I got a pretty lack-lustre response as if to say "OK, if that's the only thing that's on the menu tonight then I suppose it'll do!". It was a normal dish I enjoy preparing for my wife, Melanie who really enjoys this simple creation of flavours so I had an idea I might surprise the family. On this occasion I decided to add bacon to my regular recipe and I never looked back. I'll share the dish with you as it's a breeze to prepare!
The response was unanimous and to top it all off when their departure back to the west coast of North America loomed large, I asked what they'd like as their special going home dinner and the response was to have chicken and bacon stuffed potatoes! That's was a wonderful compliment!
Ingredients

1 large potato per person (if you've only got small ones then I'd recommend 2 per person)
250g packet of back bacon, chopped
250g of de-boned chicken breast, diced into cubes
juice and zest of a large lemon (get some of the pulp in there too for extra flavour)
2 tsp of chopped garlic or 5/6 fresh cloves of garlic crushed
generous splash of olive oil – about 3/4 tbsp
2 tsp of Moroccan spice mixture
250 sliced mushrooms
handful of fresh parsley or thyme finely chopped
sweet chilli sauce – I use Wellingtons
good mayonnaise
grated mature cheddar cheese
salt and black pepper to taste
Give it a Whirl!
Firstly, you have 2 options in order to do you baked spuds. If you're in a hurry then microwave at 100% power for 12 minutes or until cooked through. Alternatively, the best method, is to cook them in the oven at 180ºC for about 75 minutes depending on the size of your potatoes – they will start to brown on the outside.
Place the olive oil in a large frying pan, add the garlic and the parsley/thyme and heat the oil over a high heat. Before it gets too hot, add the bacon and toss this in the hot oil until it starts to brown then reduce to a medium heat. Add the mushrooms and the diced chicken and toss everything together. At this point add the lemon zest and juice and your Moroccan spice mixture, coarse salt and ground black pepper. Once you can see that the chicken has cooked remove from the heat and set aside.
When the potatoes are ready, take them and place on an oven proof tray and slice in half but don't cut them all the way through – they need to fall to the sides. Then take your bacon and chicken mixture from the pan and fill the gaps in the potatoes. Those elements that fall outside the bounds of the potato, don't be upset with them but gently coax them back into the fold of the potato 'V' element.
Coat that filling mixture with some sweet chilli sauce and on top of that cover with a dollop of mayonnaise. See below: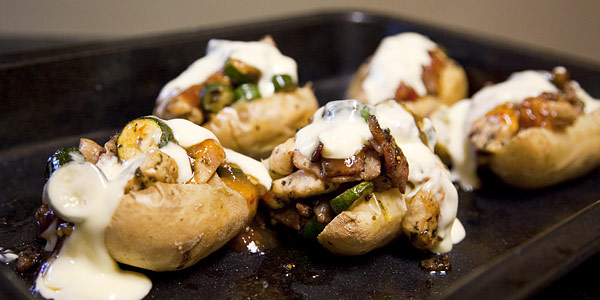 Then sprinkle with the grated cheese and dust with some Paprika over the cheese to taste. Place this under the grill in your oven merely to melt the cheese. Remove from the oven just before the cheese starts to burn on top.
Plate up your stuffed spuds and enjoy the wonderful flavours of Morocco wedged between 2 halves of carbohydrate goodness! Let me know if they are as good as what my family reckons!