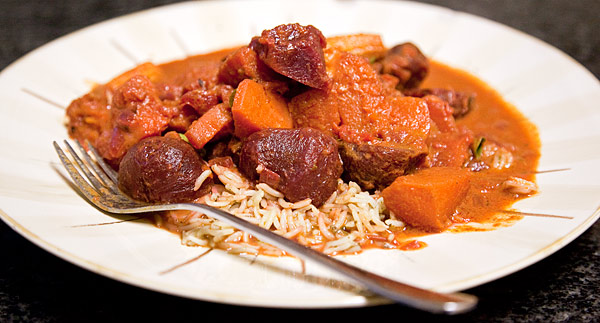 It is always a pleasure to get invited to my aunt Carol's place in Howick for a meal as she really is one of the better home cooks around – she throws a whole bunch of passion into each dish she prepares, possibly inspired by her father. This meal is taken from an amazing recipe book she compiled for Melanie and myself as a Christmas gift last year. The recipe is a beetroot curry but I wanted to bulk it up a bit and included half a kilogram of butternut and 250g of baby corn to make a real wholesome veggie curry. Loved this dish.
Ingredients

400g small to medium sized beetroots
500g butternut, peeled and diced lightly sprinkled with whole cumin
250g baby corn
1 tin chopped tomatoes
1 tin coconut milk
2 red onions, finely chopped (brown onions will do but I enjoy the sweetness in the red onion which bring out the flavour of the beetroot so well)
3 tbsp extra virgin olive oil
4/5 cloves of garlic, broadly sliced
1 tsp ground cinnamon
1 tsp tumeric
1 tsp salt coarse salt
a good handful of curry leaves – at least 20
1.5 tbsp good masala powder mix
1 green chilli, de-seeded and roughly chopped
250ml water
fresh coriander to garnish
Give it a Whirl!
Bake the beetroot and butternut in an oven at 220ºC for 30 minutes. The best is if you have a gas braai with a lid or a weber and you smoke these for half an hour under good heat which ends up giving the veggies a slightly smokey flavour. Peel the beetroots while they are still warm and then cut in half and set aside.
Heat the oil over a medium heat and fry the onions with the garlic slices until the onions have started to brown. Add all the spices – including the masala mix – to the onions and continue to fry for a further 2 minutes to release the aromas to get you really excited about the meal ahead! Then throw in the chillies, tomatoes, water, curry leaves and salt and bring to the boil. Add the beetroot, corn and butternut reducing to a low heat and let this simmer for about 40 minutes.
Lastly add the coconut milk and fresh corriander, mix thoroughly and then remove from the heat and prepare to serve on a bed or Basmati rice. Sprinke with coconut and sambles.