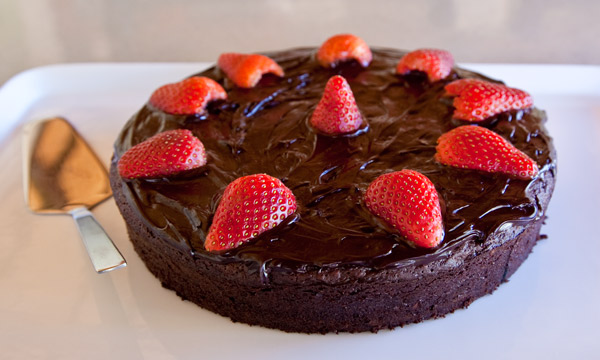 Don't be put off by the type of cake – this one's a winner and is also a rather slimming version of a traditional chocolate cake – in fact it's adapted from a recipe book of the BBC series Cook Yourself Thin. It's pure bliss and the good amount of quality espresso coffee used in this recipe too gives it an ever so slight mocha flavour. I think you may have noticed how much I enjoy coffee-anything! You're going to need a bit of time for this cake but as we know most of the good things in life take time, but in this case it's worth the wait.
Ingredients

250g good dark chocolate (we use 70% Lindt Chocolate)
3 free range eggs
250g muscavado sugar or caramel sugar
1 vanilla pod, use the seeds
4 tbsp maple syrup (or regular honey but the maple flavour gives it a great edge)
40g cake flour
40g self-raising flour
25g cocoa powder
50g almonds or cashew nuts – crush quite coarsely in a pestle and mortar
1/2 tsp bicarbonate of soda
pinch of salt (about 1/4 tsp)
100ml good espresso coffee
250g raw beetroot, peeled and grated
30ml sunflower oil

For the Fudge Icing

150g of good dark chocolate
3 tbsp espresso coffee
1 tsp vanilla extract or essence
3 tbsp honey
Give it a Whirl!
Preheat your oven to 160ºC for a regular oven or 140ºC for the thermofan type. Grease a round cake tin well.
Take the dark chocolate and melt in glass or steel bowl over steamed water – once melted set aside to cool. Then place the eggs, sugar, maple syrup, vanilla seeds into a large mixing bowl and mix with an electric beater or whisk for about 3 minutes until fluffy and lightly textured. Sift the flours, bicarb, salt and cocoa powder onto this sugar mixture, add the crushed almonds from your pestle and mortar and fold in gently with a spatula. Next is to take the melted chocolate, espresso coffee that you have pulled through your espresso machine (or brewed in a drip filter or last resort mix some good instant coffee but this honestly is last resort!), oil and grated beetroot and fold again through the mixture until completely mixed.
Take this mixture and transfer to your cake greased cake tin and place in the preheated oven for 90 minutes and then take out the over and cover tin with tin foil and bake for a further 30 minutes at the same temperature. Your cake should now be ready but test just in case by skewering with a knife of sorts. Because this cake is so moist the knife may still come out a bit messy but that would be OK! Place on a wire rack to cool completely.
For the Icing
Take the dark chocolate and melt in a glass or steel bowl over boiling water then add the coffee and vanilla extract. Allow to cool slightly then add the honey and transfer to the cooled cake and spread roughly with a spatula on top of the cake – you may wish to cut the cake in half and spread this icing in the middle too but I've always found this too much admin!
We have decorated the cake with glacé cherries and sprinkles, raspberries and this last effort (pictured) with fresh strawberries. Serve this cake fresh with a good pot of coffee and enjoy the experience.